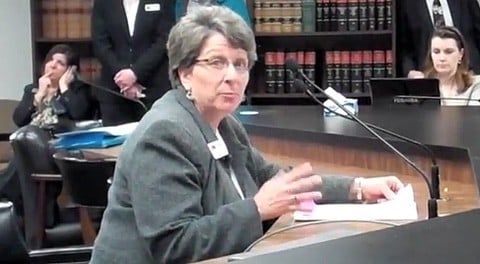 Tanya Ditty, a Georgia schoolteacher and the state director of Georgia's branch of the extremist wingnut group Concerned Women for America, testified against a bill that would ban discrimination against the state's LGBT employees before a House panel on Tuesday, Project Q Atlanta reports.
Ditty warned that approving the bill would allow gay people, who according to Ditty are pedophiles and necrophiliacs (she has a whole list), to get jobs as teachers or janitors and prey on students. She also tells a personal story about her 'shocking' encounter with a transgender person in the restroom.
Whether her hateful testimony was influential or not, the panel effectively killed the bill by tabling it  in a 3-2 vote.
Watch Ditty's disgusting rant, AFTER THE JUMP…