Pinal County Sheriff and congressional candidate Paul Babeu, who yesterday asked for an investigation into claims by his ex-boyfriend Jose Orozco that he threatened him over exposing their relationship, has received support from gay former Arizona GOP Rep. Jim Kolbe.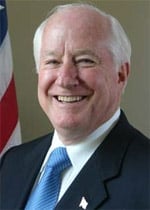 Said Kolbe to Chris Johnson at the Washington Blade:
"I endorse Paul Babeu based on his distinguished record of service to his country both in the military and as a law enforcement officer," Kolbe said. "I think he has a solid understanding of the short and long-term economic problems that face this country and is willing to make the necessary, tough decisions to tackle them."
Kolbe, who came out in 1996 after being hit with criticism for voting in favor of DOMA, said he knew Babeu was gay prior to last weekend when Babeu announced it in response to the allegations.
Added Kolbe: "I knew he was gay. That is the only thing that I can say that I knew. We had several little discussions about that in my conversations with him. That's all I would say about that."