Bill to reinstate 'DADT' in Oklahoma National Guard is shelved.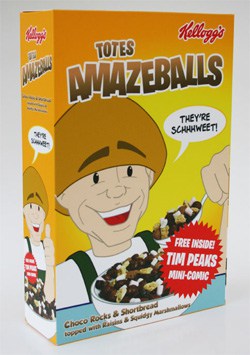 Kellogg's creates 'Totes Amazeballs' cereal for Twitter user.

Adam Levine joins the contraception debate, endorses the withdrawal method.

Action on "Don't Say Gay" bill delayed for amendment: "The House Education Committee put off discussion of a measure meant to curb discussions about homosexuality in elementary and middle school for a week so new language can be added specifically protecting some talks between students and their teachers, school nurses and guidance counselors."

Chace Crawford plays shirtless football, poses for paparazzi in Cabo San Lucas.

Mark Ronson talks about his work on the new Rufus Wainwright album. "It has a sort of really warm, mid '70s T Rex, Young Americans, Lauren Canyon kind of vibe to it."

Serbia to open first shelter for gays: "Dusica Davidovic, an official in the southern city of Nis, about 120 miles (200 kilometers) south of Belgrade, says the city needs a "safe house" where gays from the area could seek protection. A 19-year-old Serbian man was kicked out of his home last year after he publicly said he was gay. Stefan Radovic says his family has cut all ties with him and he has nowhere to live."

Nicki Minaj goes Smurf blue.

10 members of Congress pose for the NOH8 Campaign.

Amazing Race advance producer Jeff Rice poisoned in Uganda after attempted shakedown. "Details are sketchy, but the source said that after refusing to give in to the demands of local thugs, Rice and another facilitator ended up very sick with poisoning of some kind."

LOGO announces 2012 slate of shows, veers away from gay-specific programming: "These new projects are anchored by stories that go deep into today's world: Wanting to start a family is a universal desire, no matter who you love. Families in business together during a recession could be the ultimate drama. Pets are now surrogate children for a lot of people—who go to great length to celebrate them." Check out the new offerings here.

VIDEO: Justin Theroux breakdances for Ellen DeGeneres.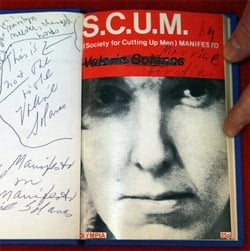 S.C.U.M. Manifesto: Andy Warhol shooter annotated her own book in the NY Public Library.

Andy Warhol died 25 years ago today.

Scientists discover steamy "water world" planet.

UK serial killer of gay men dies in prison: "He made a New Year's Resolution on January 1, 1993 to become a serial killer and over the next six months killed five men he met at the Colherne pub in Earls Court. It was reported at the time he went back to his victim's homes, got them to agree to be tied up, tortured and suffocated them."

Opening statements could begin today in Tyler Clementi roommate case: "Jury selection in 19-year-old Dharun Ravi's trial began Tuesday in New Brunswick, N.J., where Ravi faces charges of bias intimidation, in addition to invasion of privacy. Because the two bias intimidation charges are considered hate crimes, each carries a potential prison term of 10 years.  "