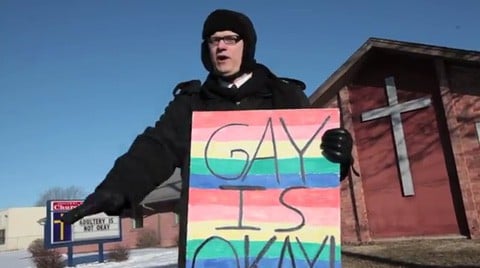 On Friday, I posted about a "Gay is Not Okay" marquee put up in front of Rev. Michael Demastus' Church of Christ in Des Moines. Approximately 100 protesters demonstrated in front of the church on Sunday, the Des Moines Register reports: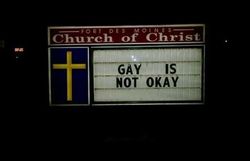 Patrick Boltinghouse, 28, of Des Moines, took the picture of the marquee that was posted last week on Facebook. He said within an hour there were 100 responses. Outside the church this morning, Boltinghouse said he didn't organize the protest. He said he wanted to come out and make sure a peaceful voice was heard.
"For someone to say 'Gay is not OK' is pushing kids more in the closet," he said. "We're in the 21st Century. You'd think that gays could be part of humanity."
At around 10 a.m., radio talk show host Ed Fallon, a former state representative and outspoken Des Moines liberal, approached the church and asked to speak to the pastor. Fallon said he wanted to invite Demastus onto his show, Fallon Forum 98.3 FM, but he's not confident it will happen.
Watch the Des Moines Register's and the local FOX affiliates reports, AFTER THE JUMP…
Church's "Gay is Not Okay" Sign Causes Outrage: MyFoxPHOENIX.com