After eight years, Rick Santorum may be getting rid of the 'Google problem' started as a prank by Dan Savage in 2003 which linked Santorum's name to a website offering a definition: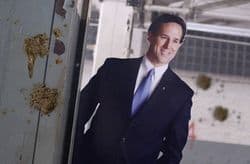 "the frothy mix of lube and fecal matter that is sometimes the byproduct of anal sex."
The webpage, which appeared as the top search result when one Googled "Santorum", no longer appears in the top search results (although the blog, connected to the site currently ranks sixth), according to Savage.
This, of course, is what Rick Santorum asked Google to do months ago. Google told Santorum they couldn't, they told Santorum they wouldn't, because www.spreadingsantorum.com was the legit #1 search result when you Googled his last name. It wasn't a Google bomb, we weren't gaming Google's algoribbons or whatever. We were legit.
But tonight we're gone. I'm not too sad about it—hey, we had a good run!—but I am a little mystified. Why now? Was it intentional? Did Google cave to the pressure?
Unfortunately for Rick, the new top-ranking result is the Urban Dictionary's definition of the term, which Savage notes is even cruder. Savage launched the site after Santorum made remarks comparing homosexuality to "man on dog" sex.
It's unclear why the ranking has changed, and could be because of recent changes to Google's search algorithms. 'Spreading Santorum' still ranks in the top spots on Bing and Yahoo!