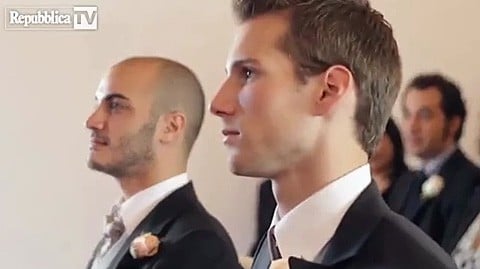 Remember Australia's "It's Time" marriage equality video?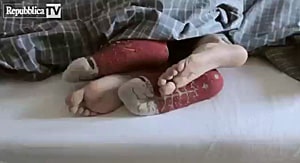 Well, think of this as Italy's version.
A first-of-its-kind video raises the issue of marriage equality in Italy just in time for Valentine's Day. It's called "I'll Marry You" and it's named for a well-known song by Lorenzo 'Jovanotti' Cherubini, who offered the use of it to LGBT rights group Arcigay for this clip, which draws attention to the need for marriage equality in that country. The video took four months to make, according to Italian paper La Republicca and tells the story of a young gay couple who gets married and another lesbian couple who gets engaged at their wedding. The video is sponsored by Arcigay and AGEDO (the Italian version of PFLAG, as well as Bologna Pride).
Check it out, AFTER THE JUMP…
Previous Gay Wedding videos…
Gay Wedding Video of the Day: Amir and Chandler [tr]
Gay Wedding Video of the Day: Ruben and Joaquin [tr]
Dan and Eric Find Their Wedding Reception [tr]
Patrick and Scott Tie the Knot in Minnesota [tr]
First Dance at a Gay Wedding [tr]
We are starting a regular column featuring gay wedding videos (see some of them at links above). If you've got a creative wedding video online you'd like to share with Towleroad to celebrate marriage equality in this column please send it along. Extravagant, simple, sexy – we'll consider them (but can't guarantee we'll post them) all – the more creative the better! Let us know at tips – at – www.towleroad.com.