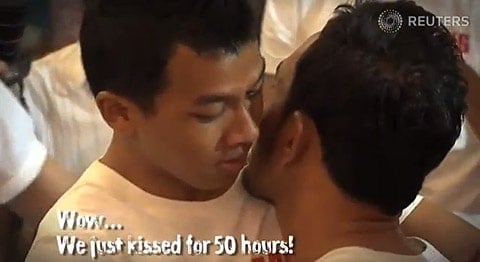 A gay couple kissed for 50 hours, 25 minutes and one second to break a world record for longest kiss, VOA News reports:
The two men were taking part in the annual Ripley's Believe It or Not longest kissing competition in the resort town of Pattaya, Thailand. The seven competing couples started kissing Sunday and had to keep their lips locked at all times, including to eat and drink and to go to the bathroom.
Thirty-one-year-old Nontawat Jaroegenasornsin and 28-year-old Thanakorn Sittiamthong won $6,500 worth of diamond rings, cash and a voucher for a five-star hotel in Thailand for their first place kiss.
Watch, AFTER THE JUMP…