Two House committees have advanced Maryland's marriage equality bill, the Baltimore Sun reports: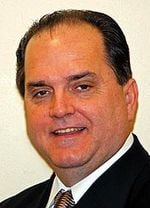 The two panels — House Judiciary and House Health & Government Operations — voted 25 to 18 to approve the bill that would legalize same-sex marriage. Del. Sam Arora, a Democrat from Montgomery County, abstained.
The bill is set to go to the House floor Wednesday, though supporters say they are still unsure that they have the 71 votes needed for passage. Arora's vote is considered key. O'Malley has been meeting privately with delegates to seek their support.
A surprise "yes" vote Tuesday was that of Anne Arundel County Del. Robert Costa (pictured), thus far the only House Republican to support the bill. Another Republican, Del. Patrick Hogan, says he is still undecided.
According to the paper, "The two committees voted as one 45 member super-panel. A simple majority was needed to move the bill to the floor."