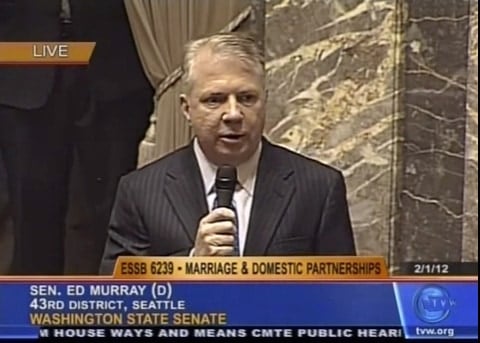 Last night, just before the state Senate vote passing marriage equality, Senator Ed Murray took the floor and acknowledged that he would soon be marrying his partner Michael. AP:
Democratic Sen. Ed Murray, the bill's sponsor, said he knew same-sex marriage "is as contentious as any issue that this body has considered in its history."
Lawmakers who vote against gay marriage "are not, nor should they be accused of bigotry," he said.
"Those of us who support this legislation are not, and we should not be accused of, undermining family life or religious freedom," said Murray, a gay lawmaker from Seattle who has spearheaded past gay rights and domestic partnership laws in the state. "Marriage is how society says you are a family."
Murray mentioned his partner of more than 20 years — Michael Shiosaki — as he told his Senate colleagues before the vote "regardless of how you vote on this bill, an invitation will be in the mail" to their future wedding.
The Senate then voted 28 – 21 to pass the bill, setting the stage for the House vote (which is expected to be favorable) and the passage of marriage equality in Washington State.
Watch Murray speak and the roll call be taken, AFTER THE JUMP…