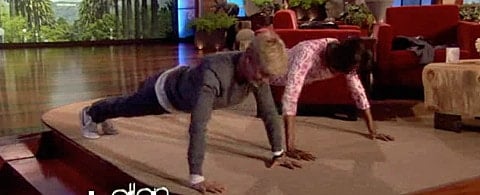 Earlier in the week I wrote about the AFA group One Million Moms' campaign against JC Penney to fire Ellen DeGeneres as its spokesperson because she's an "open homosexual".
But as it stands, this campaign against Ellen won't impact J.C. Penney's decision. In an emailed statement to Yahoo Shine, J.C. Penney confirmed it "stands behind its partnership with Ellen DeGeneres."
More than 25,000 people signed a petition drawn up by GLAAD to support Ellen, and 95% of the L.A. Times readers supported JC Penney hiring Ellen in a poll.
Also, did you see Ellen challenge Michelle Obama to a push-up contest this week?
Check it out, AFTER THE JUMP…