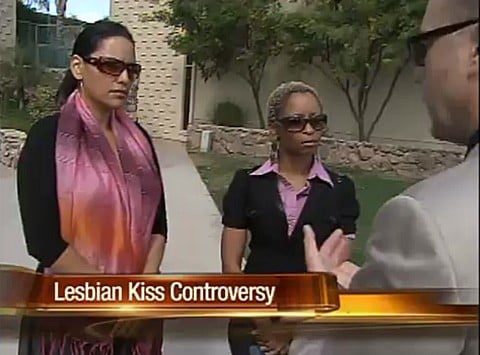 A lesbian couple in Phoenix were asked to leave the Sheraton Hotel's District restaurant on Sunday after sharing a kiss during an anniversary dinner, ABC15 reports:
Kenyata White and Aeimee Diaz were celebrating their one-year anniversary Sunday at Sheraton's District restaurant, inside the downtown hotel, when they were asked to leave. The couple says they shared a simple kiss and they didn't think anything of it until the manager came up to them and told them to get a room.         
The women said the manager told them other patrons had complained to him. 
"By no means at all were we doing any inappropriate activity. It was a light kiss a kiss that you could give your friends on the lips. It wasn't any make out at all and so we were very puzzled as to why we need to get a room," White said.     
After the manager saw how upset they were they say he apologized and offered them free drinks if they would leave and come back another time.
Watch, AFTER THE JUMP…