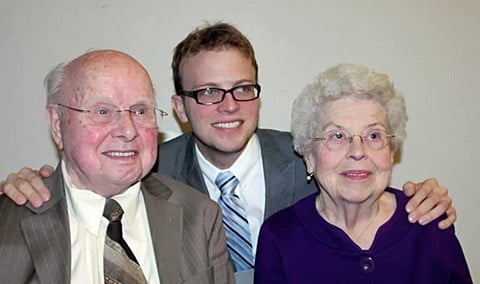 Jacob Reitan, an activist and friend of Towleroad who helped found the Soulforce Equality Ride back in 2006, has put together a touching video with his gay cousin and his grandparents in response to efforts seeking a voter referendum on Washington state's marriage equality law.
Watch, AFTER THE JUMP…
Jacob tells us:
My grandparents, Rev. John and Dorothy Reitan, live in Tacoma, WA. They have been watching the news closely these last weeks as the Washington state legislature debated and then made history as they passed a bill making marriage legal for gay couples. They rejoiced when Governor Chris Gregoire signed the measure bringing marriage equality to Washington.
Right now that law may be at risk as those opposing it are mounting a campaign to put it to a vote this November. It is important to Grandmom and Grandad to speak out and share their support for marriage equality both as Washington citizens and as grandparents who have two gay grandchildren. I have felt their love and support all my life. As a gay man, it deeply touches my heart to hear their words embracing marriage equality on this video.
 
My grandparents are now in their 90's. They have been blessed with a strong and beautiful marriage for nearly 70 years. Their marriage has been a role model for all of us in our family. I want to have a marriage like theirs. I want society to recognize it. I want my family and friends to celebrate with us and support us.
 
I know I will be embraced by their love on the day I get married. I hope their words on this video inspire others to speak out for marriage equality.
Watch, AFTER THE JUMP…