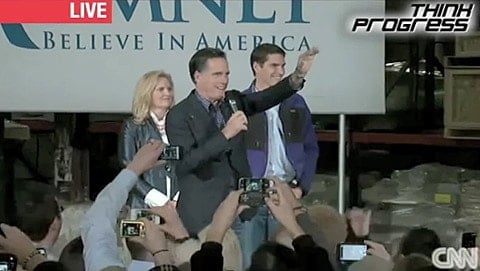 Mitt Romney was glitter-bombed by a gay activist at an Eagan, Minnesota campaign stop today, Think Progress LGBT reports. Romney then took the stage where he waved at the activist, and then called the glitter "victory confetti":
Hi there, how are you? Hi there! How are you? Good to see you! There you go….Hey listen guys, I'm delighted to be here with you, this is an exciting time. I'm happy for a little celebration. This is confetti! We just won Florida! We're just going to win the White House next! Let me tell you, President Obama is not going to be seeing a lot of confetti.
Romney, who apparently now thinks he's a singing star, then sang "America the Beautiful", again.
Watch the clips, AFTER THE JUMP…