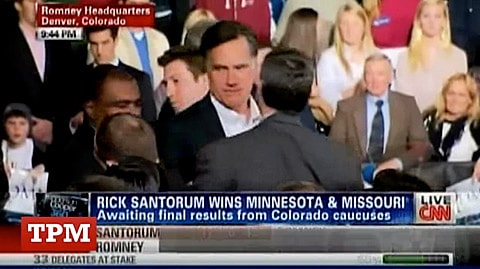 Peter Smith, a University of Colorado Boulder student, has been charged over an attempted glittermbombing of Mitt Romney on Wednesday which was thwarted by the Secret Service.
Denver authorities detained Smith for questioning on Tuesday night, and he was cited on misdemeanor charges of creating a disturbance, throwing a missile and an unlawful act on school property, Denver Police spokesman Sonny Jackson said.
Smith, who faces up to six months in jail and a $1,000 fine if convicted, said he has no regrets about his protest.
Smith said he was protesting not only Romney's stance on same-sex marriage but his "general political philosophy" and added that agents questioned him about the act of glittering: "They just mentioned this act was an issue that they've been trying to deal with more and more."
Meanwhile, a D.C. optometrist is warning of the dangers posed by glitterbombing: "If it gets into the eyes, the best scenario is it can irritate, it can scratch. Worst scenario is it can actually create a cut. As the person blinks, it moves the glitter across the eye and can actually scratch the cornea."
I've reposted the attempted glitterbombing, AFTER THE JUMP…