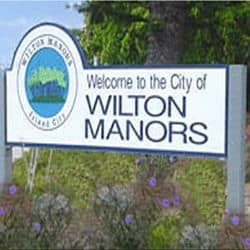 Wilton Manors is a genial gayborhood of some 12,000 souls in Broward County, FL, just to the north of Fort Lauderdale. It's arguably the gayest gayborhood in America, and it's a very pleasant place. (I know, for I grew up there. It's nice!) And yet, according to the Sun Sentinel, Wilton Manors' citizens are committing suicide at a greater rate than citizens of any of the other 31 municipalities in Broward, and at three times the rate of American citizens in general. Zero-point-oh-four-seven of Wilton Manors residents are killing themselves per year.
From the Sentinel:
Over the past four years, this city of under 12,000 people has had five more suicides than [the nearby city of] Weston, which has about 65,000 people, and only one fewer suicide than [nearby] Miramar, which has 122,000 people, according to figures from the Broward County Medical Examiner's Office.

… Among last year's suicides, O'Connell said a 40-year-old gay man hanged himself in October after breaking up with his partner; a 44-year-old man with a history of mental illness shot himself in August; and a 52-year-old man — married with children — stepped in front of a train in June, conflicted about whether he was straight or gay.

While O'Connell said the suicides seem to involve every part of society — "straight, gay, rich, poor, old, young" — mental health professionals see several potential factors behind the city's increase.
Yes: gayness, poverty, and age. Wilton Manors is both older and vastly gayer than most American cities, and both the aged and the gay are slightly more likely than their younger and straighter counterparts to kill themselves. But those factors don't seem sufficient to explain the Wilton Manors discrepency, according to the Sentinel.
Wilton Manors officials have called a townhall meeting for April 19th to discuss the city's suicide problem.