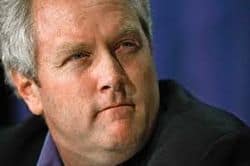 Conservative blogger, publisher, and activist Andrew Breitbart has died, Big Government reports:
Andrew passed away unexpectedly from natural causes shortly after midnight this morning in Los Angeles. We have lost a husband, a father, a son, a brother, a dear friend, a patriot and a happy warrior. Andrew lived boldly, so that we more timid souls would dare to live freely and fully, and fight for the fragile liberty he showed us how to love.
ABC News' Jake Tapper tweets: "LA coroner's office confirms to ABC News Radio that Breitbart died shortly after midnight at UCLA Medical Center."
[Breitbart.com editor-in-chief Joel] Pollak said that Breitbart had been taken by ambulance to the UCLA medical center, where he was pronounced dead shortly after midnight. Pollak, who was present at the hospital, said that Breitbart had no known serious medical issues, but declined to say more on the matter out of respect to Breitbart family.
"He continues to inspire us, and we'll be moving forward [on his projects]… as he would have wanted," said Pollak. "We're devastated by his loss."
An autopsy is pending. Breitbart last tweeted at 11:25 pm Pacific Time, which is evidently shortly before he was taken to the hospital.
AP:
Breitbart was walking near his house in the Brentwood neighborhood shortly after midnight Thursday when he collapsed, his father-in-law, Orson Bean, said. Someone saw him fall and called paramedics, who tried to revive him. They rushed him to the emergency room at Ronald Reagan UCLA Medical Center in Los Angeles, Bean said. Breitbart had suffered heart problems a year earlier, but Bean said he could not pinpoint what happened.
Developing…