Michael Ausiello breaks some gay Glee news in a spoiler Q&A: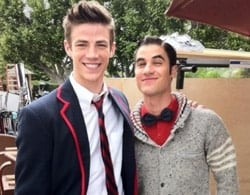 Question: Please, please, please could you tell me if Rachel and Finn will be able to go through with their wedding on Glee? I am going crazy. — Farsia2010
Ausiello: Well, I can tell you this much: Either Rachel and Finn are gonna go through with it, or Will and Emma are, because the show is casting a burly, Eric Stonestreet sorta guy to play a wedding planner named Lavender. In other Glee news, the gay population at McKinley is about to go up by one. The fresh meat? Chandler, a masculine hottie who's full of joie de vivre.
No word on whether this new addition is part of the student body or the teaching staff.