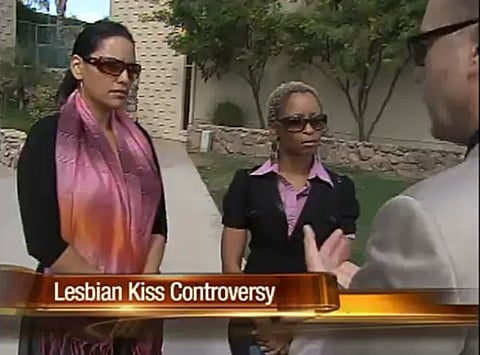 Earlier this week, Andy reported on the interrupted anniversary dinner of Kenyata White and Aeimee Diaz — two lesbians in Phoenix, AZ, who were ejected from a restaurant in a Sheraton Hotel after sharing a brief kiss. From ABC15:
The couple says they shared a simple kiss and they didn't think anything of it until the manager came up to them and told them to get a room.         

The women said the manager told them other patrons had complained to him. 

"By no means at all were we doing any inappropriate activity. It was a light kiss a kiss that you could give your friends on the lips. It wasn't any make out at all and so we were very puzzled as to why we need to get a room," White said.     

After the manager saw how upset they were they say he apologized and offered them free drinks if they would leave and come back another time.
When the story broke, it broke big. The incident spawned its own Facebook page. Phoenix's mayor got involved, issuing a statement which read, in part:
We fully expect the Sheraton, which also has committed their support to our LGBT community, to work with Equality Arizona and resolve this issue in a professional way with their staff. Let's be completely clear — Phoenix is a gay-friendly city and we welcome the LGBT community, not only because it is good business but also because it's the right thing to do.
All the publicity caused the Sheraton deep shame, or at least deep nervousness, and the restaurant's management contacted the couple on Facebook. From Edge magazine:
The hotel's representatives eventually reached out to White and Diaz and asked to meet with them and apologize for making them leave.

"We had the opportunity to meet with the couple late (Tuesday) to listen to their story and better understand their view and how they felt," hotel General Manager Leo Percopo said in a statement. "We had a collaborative conversation, and both parties are taking this incident seriously. Together, we have identified opportunities in which both parties can unite and work together to foster diversity awareness."
The magazine reports that the Sheraton's offer for free booze remains intact. Incredibly, it has not been upgraded to an offer for a free meal.