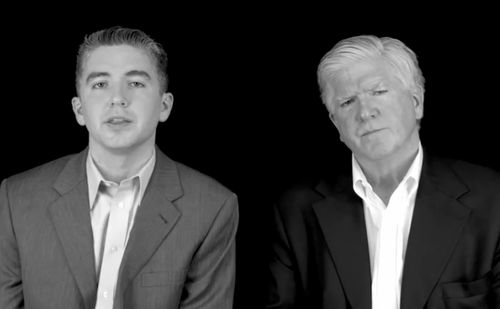 It was just over two years ago — on February 6th, 2010 — that the youngest son of Toronto Maple Leafs owner Brian Burke died in a weather-related car accident in Indiana. That young man, Brendan Burke, had publicly come out of the closet just three months earlier. At the time, the elder Burke told ESPN:
I had a million good reasons to love and admire Brendan. This news didn't alter any of them. I would prefer Brendan hadn't decided to discuss this issue in this very public manner. There will be a great deal of reaction, and I fear a large portion will be negative. But this takes guts, and I admire Brendan greatly, and happily march arm in arm with him on this. There are gay men in professional hockey. We would be fools to think otherwise. And it's sad that they feel the need to conceal this. I understand why they do so, however. Can a gay man advance in professional hockey? He can if he works for the Toronto Maple Leafs! Or for Miami University Hockey. God bless Rico Blasi! And I am certain these two organizations are not alone here. I wish this burden would fall on someone else's shoulders, not Brendan's. Pioneers are often misunderstood and mistrusted. But since he wishes to blaze this trail, I stand beside him with an axe! I simply could not be more proud of Brendan than I am, and I love him as much as I admire him.
After Brendan's death, the elder Burke vowed to take up the cause of ending homophobia in hockey. To that end, Brian and another of his children, Patrick — a scout for the Philadelphia Flyers — have initiated the "You Can Play" project.
Take a look at the first of the project's video offerings, featuring a line-up of NHL All-Stars, which premiered during the intermission of yesterday's Rangers-Bruins game, AFTER THE JUMP…
Or visit the project's website. I think Brendan would be pleased.