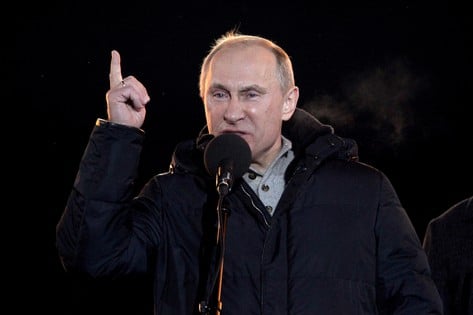 Putin won:
Russia's opposition has vowed to continue protests alleging widespread irregularities after a tearful Vladimir Putin claimed victory in an election that will see him return for a third term as president.

With more than 90 per cent of votes counted on Sunday night, the tally for the former spy who has dominated Russian politics for the past dozen years stood at 65 per cent. That represents a comfortable victory with no need to go into a second round of voting.

Later blaming the wind for the tears in his eyes, Mr Putin wasted no time in declaring victory, addressing thousands of Russian flag-waving supporters at a victory rally outside the Kremlin walls.

"I promised we would win. And we did win!" Mr Putin said, to cheers from his supporters. "We won an open and honest battle."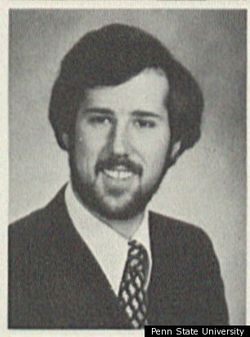 The making of Santorum, a man of moral profundity:
… As [Karen Garver and Rick Santorum] made plans to marry and he decided to enter politics, she sent him to her father for advice.

Dr. Kenneth L. Garver was a Pittsburgh pediatrician who specialized in medical genetics. The patriarch of a large Roman Catholic family, he had treated patients considering abortion but was strongly opposed to it.

"We sat across the table and the whole evening we talked about this issue," Mr. Santorum told an anti-abortion group last October. He left, he said, convinced "that there was only one place to be, from the standpoint of science as well as from the standpoint of faith."

The utterances of Santorum, a man who can't keep his mouth on message:
"The Blunt amendment was broader than that," Santorum told Fox News host Chris Wallace on Sunday. "It was a conscience clause exception that existed prior to when President Obama decided that he could impose his values on people of faith, when people of faith believe that this is a grievous moral wrong."

This editorial about Rush Limbaugh's latest orgy of public awfulness gets a few things very, very wrong, but it contains at least one delightful turn of phrase:
Inadvertently, Rush also helped advance the argument from the left that Republicans are waging a war against women. After referring to Fluke as a "slut" and a "prostitute," he offered the following proposition:

"So Miss Fluke, and the rest of you feminazis, here's the deal. If we are going to pay for your contraceptives … we want something for it. We want you to post the videos online so we can all watch."

The image suggested is equally degrading to Limbaugh given his obvious familiarity with "watching," and invites unflattering speculation. To wit: It is entirely possible that Limbaugh himself never needed contraception in college, but virtue in the absence of opportunity is hardly a moral triumph.

… and despite overwhelming public disapproval, misogynists and sexophobes just keep digging themselves deeper.

And deeper.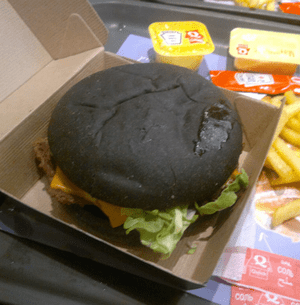 The best thing to hit the web this weekend: a collection of terrifying children's drawings.

Christian schools in Texas don't want to play basketball with Muslims.

Dear God, what's Quick serving to French people? (That's Quick, not McDonald's, contrary to previous reports. Thank you, readers, for pointing out this knuckleheaded error.)
"Blacks and gays: The shared struggle for civil rights."