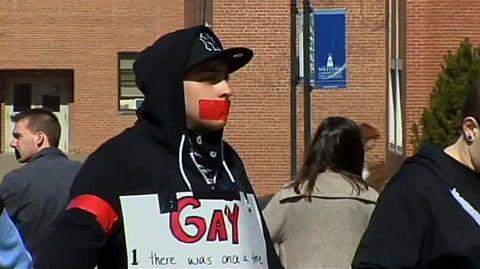 Approximately 50 students at Western Connecticut State University staged a rally in response to several incidents of anti-gay hate on campus, including one in which a note reading "Die Dyke" was written on a dry erase board on a student's door.
University President James Schmotter said Wednesday, "Enough is enough."
"The cowardly writing of such anonymous messages may be easy, but it causes real pain and discomfort for those targeted.  Such hate speech has no place at
this university and will not be tolerated," Schmotter said in a campus-wide e-mail."If, as in those previous incidents, perpetrators are identified, they will be prosecuted in accordance with campus and state and federal legal codes."
Federal law comes into play because almost every single use of the internet involves crossing state lines. The incidents are investigated as "intimidation based on bigotry or bias." …
…In a separate incident reported at Fairfield Hall, WCSU police are investigating threatening and harassing blogs posed on a Tumblr account belonging to two students. That was reported March 6 at 10:41 a.m.
The word "Fags," was written on a paper taped to the door of a student at Litchfield Hall on March 3.
Watch a WTNH news report on the rally, AFTER THE JUMP…
Students rally in response to gay slurs: wtnh.com