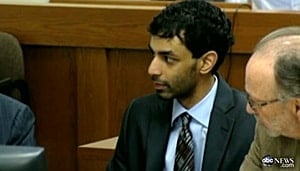 Closing arguments are just beginning in the trial of Dharun Ravi:
Former Rutgers student Dharun Ravi is accused of using a webcam to spy on his roommate's intimate encounter with another man in September 2010. The roommate, Tyler Clementi, committed suicide several days after the encounter, and the case launched a nationwide dialogue about cyberbullying and gay teen suicide.
Ravi faces 15 criminal charges, including invasion of privacy and bias intimidation, a hate crime punishable by up to 10 years in state prison. Ravi is not charged in connection with Clementi's death.
Jury could get the case by the afternoon.
Watch, AFTER THE JUMP…
Visit msnbc.com for breaking news, world news, and news about the economy