Ross Levi responds to ouster from Empire State Pride Agenda.

VIDEO: Indiana hero mother loses both legs saving kids from tornado.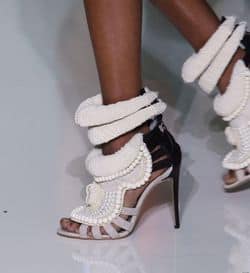 Kanye West designs $6,000 shoe.

Chilean leaders condemn brutal beating of Daniel Zamudio: "Interior Minister Rodrigo Hinzpeter posted a message on his Twitter account Tuesday saying he repudiated the homophobic attack and expressed "total solidarity" with Zamudio. Hinzpeter recently said Chile should consider enacting a hate crime law to deal with such attacks." Background.

Gay Michigan congressional candidate Trevor Thomas gets backing of former Gov. Jennifer Granholm (D) and former Lt. Gov. John Cherry (D) in his bid to unseat first-term Rep. Justin Amash (R-Mich.).

East Lansing, Michigan celebrates 40th anniversary of nation's oldest LGBT non-discrimination law: "Outside of East Lansing and the 17 cities that have passed similar ordinances in Michigan, it's still legal in our state to fire someone for being gay," Triplett told The American Independent. "That's entirely unacceptable. It's also ironic and tragic that at the very moment we are celebrating the 40th anniversary of our groundbreaking policy, there is a bill pending in the state legislature that would void our human relations ordinance and in effect legalize discrimination against LGBT people in East Lansing."

What the Blunt Amendment means for people with HIV.

Joel Edgerton takes a shirtless dip at Bondi Beach in Australia.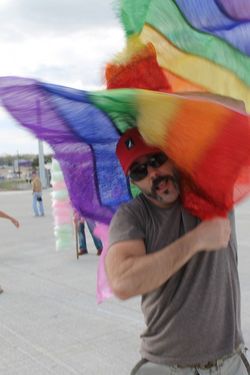 Gay flaggers help dedicate Calatrava-designed Margaret Hunt Hill Bridge  over Trinity River in Dallas.

"Death to gays" pastor added to supporter roster of Heritage Coalition 'Proclamation' opposing Omaha LGBT ordinance.

Kim Zolciak releases new attempt at music.

Leonard Pitts, Jr. on Dalan Wells and Brandon Morgan's Marine homecoming photo: "Or, as Fleetwood Mac once put it, 'yesterday's gone, yesterday's gone.' And the sooner the Grand Old Party concedes that and stops pandering to the bitterness and fear of dead-enders and hard-liners still desperately clinging to the broken remains of Beaver Cleaver's white picket fence, the better off we all will be. "

Fran Drescher officiating same-sex marriage ceremony today.

Gay, Lesbian, Bisexual and Transgender Community Center restores Keith Haring mural: "The Keith Haring Bathroom, as it's now called, has been stripped of toilets, sinks and stalls and is used as a meeting room. But to show off a recently completed $25,000 conservation of the mural, the center will open the room to public view through March and conduct related programs."

VIDEO: Here's a preview of Oprah's upcoming interview with Whitney's daughter.

Granta: The Afterlife of Intimacy.

Prince Harry races Usain Bolt.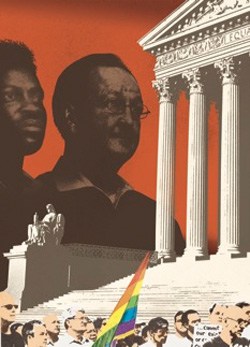 New Yorker's Dahlia Lithwick on Lawrence v. Texas: "Does it matter that, in Justice Kennedy's stirring meditation on privacy and dignity and the 'manifold possibilities' of liberty, the truth of the non-relationship between the non-lovers John Lawrence and Tyron Garner was lost? Does it matter that our collective memory locks the two men together in a mythic embrace? The plaintiffs who seek redress at the Supreme Court are rarely as polished as the movie versions that the Court can bring itself to love. But it's rare that they disappear altogether, the way Lawrence and Garner did."

Barbara Bush: "I think [the 2012 presidential campaign] been the worst campaign I've ever seen in my life. I hate that people think compromise is a dirty word. It's not a dirty word. … I think the rest of the world is looking at us these days and saying, 'What are you doing?'"

Idaho House to consider LGBT anti-discrimination bill: "Like the doomed measure in the Senate, the proposed legislation would add the words 'sexual orientation' and 'gender identity'  to the state's Human Rights Act. About half the states in the U.S. already have such measures, Tolman said, and some Idahoans had taken encouragement from neighboring Washington's passage in February of a law allowing same-sex marriages."