Scully tells OUT magazine that lesbian relationships are part of her personal X-Files: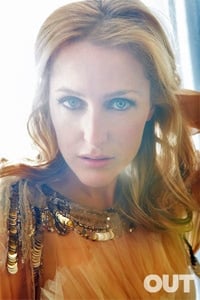 Invited to elaborate, she begins to list them: "I was in a relationship with a girl for a long time when I was in high school, and then I was in a relationship with a punk rock drug addict who…"
Wait, a lesbian relationship? "Yeah, yeah, well it's… You know, I'm old enough that I can talk about that," she says, before resuming her list: "And then I was in a relationship with somebody who was way, way older than me. Everything that that kind of anarchistic attitude brings—the inappropriate behavior it leads to—was how I chose to be in the world at that time, which was, you know, not what people did."
Anderson says she has not discussed her relationships with women before for fear of making "a big deal" of it.
"If I had thought I was 100% gay, would it have been a different experience for me?" she wonders. "Would it have been a bigger deal if shame had been attached to it and all those things that become huge life-altering issues for youngsters in that situation? It's possible that my attitude around it came, on some level, from knowing that I still liked boys."
Anderson says she has had relationships with other women, but they have been the exception, not the rule.