Houston Pastor Steve Riggle, who has been on a crusade against Mayor Annise Parker since she took office, and last year spearheaded a coalition of clergy demanding that she rescind a sweeping non-discrimination order protecting LGBT people, used his megachurch pulpit over the weekend to demand that she step down over her decision to join dozens of other U.S. mayors in Freedom to Marry's national campaign calling for marriage equality.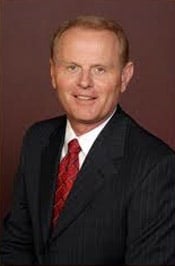 The Houston Chronicle reports:
Speaking at the congregation's 10 a.m. service, Riggle promised some 3,000 worshippers "the shortest sermon that has ever been preached in this congregation." After reading 25 Bible versions of the Genesis account of marriage as a man "leaving his father and mother and being joined to his wife," Riggle spent the next 50 minutes reading a letter he wrote to Parker last week, summarizing her response and then reading a new letter he has written to the mayor.
Parker responded with a statement:
"Houston is a city supportive of equal rights and tolerant of opposing opinions – a city where individuals may disagree with one another without being personal," said Parker. "I am standing with 160 mayors, including other Texas mayors, who have taken the same public position.My focus remains on creating jobs and building a safer city."
The paper adds that Riggle received "numerous ovations" for his attacks on Parker.
He said that he was not anti-gay nor a "gay-hater," noting that he had prayed with gay people dying of AIDS. "Just because I disagree with the life style choices that people make does not mean that I hate the people who make those choices," Riggle said, as his listeners responded with applause.