Mike Cooper, the Dunkerton, Iowa High School principal who allowed Junkyard Prophet, the proselytizing band from Bradlee Dean's You Can Run But You Can't Hide ministry, to spew anti-gay hate at an assembly for junior and senior students, has resigned.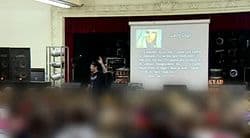 But the school district says it's not because of that:
Nevertheless, the official district line is that his resignation is unrelated to that assembly.
Principal Mike Cooper, who oversees grades 7-12 in Dunkerton, did not want to comment on the situation until the meeting tonight.
But Superintendent Jim Stanton confirmed that the plan has been "something in the works" for nearly a month and is "not at all" related to Cooper's role in the assembly.
"This has been something that has been coming for a long time," Stanton said. "He simply wants to be a superintendent."
Stanton will finish the school year at Dunkerton.
You Can Run But You Can't Hide ministries has been designated a "hate group" by the Southern Poverty Law Center.