The language for Washington state's Referendum 74 ballot title and summary was approved by Judge Tom McPhee this morning and will not contain the phrase "redefine marriage" should it appear on the ballot in November, a victory for equality advocates.
The Olympian reports the language is as follows.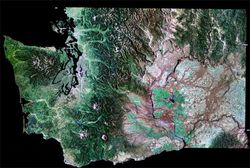 Statement of subject:
The legislature passed Engrossed Substitute Senate Bill 6239 concerning marriage for same-sex couples, modified domestic-partnership law, and religious freedom, and voters have filed a sufficient referendum petition on this bill.
The concise description:
This bill would allow same-sex couples to marry, preserve domestic partnerships only for seniors, and preserve the right of clergy or religious organizations to refuse to perform, recognize, or accommodate any marriage ceremony.
The ballot-measure summary:
This bill allows same-sex couples to marry, applies marriage laws without regard to gender, and specifies that laws using gender-specific terms like husband and wife include same-sex spouses. After 2014, existing domestic partnership are converted to marriages, except for seniors. It preserves the right of clergy or religious organizations to refuse to perform or recognize any marriage or accommodate wedding ceremonies. The bill does not affect licensing of religious organizations providing adoption, foster-care, or child-placement.
"The wording choices by McPhee appear to be a victory for the pro-gay side in that it did not say R-74 will redefine marriage, which attorney Austin Nimocks sought on behalf of the Preserve Marriage campaign."
Supporters need to collect 120,577 signatures by June 6 to put it on the ballot.
Tell everyone you know in Washington state to DECLINE TO SIGN the petition to get it on the ballot.