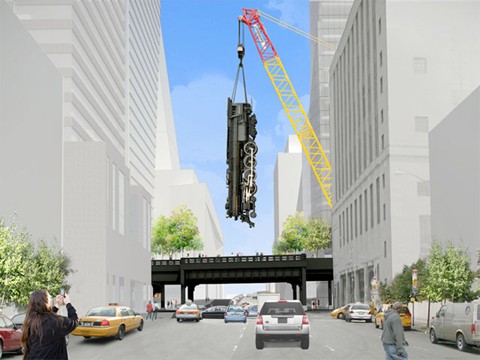 A train may soon return to the High Line, the abandoned elevated train track which is now NYC's most popular new park, the NYT reports:
The sculpture, by Jeff Koons, would be a full-size replica of a 1943 Baldwin 2900 steam locomotive. Called simply "Train," it has not yet been fabricated. The Los Angeles County Museum of Art has conducted its own feasibility studies for the project and is still exploring the possibility of acquiring the artwork, which is estimated to cost at least $25 million to create and install.
But Mr. Koons, a polarizing artist whose most famous public sculpture is perhaps his 43-foot-tall flower-covered puppy, has recently been in talks with Robert Hammond and Joshua David, founders of the nonprofit conservancy Friends of the High Line. The group, which fought to save the railway from demolition and now manages the park, will honor Mr. Koons at its annual benefit in May.
It would also not be a passive acquisition:
The sculpture, to be constructed of steel and carbon fiber, would weigh several tons. It would also occasionally spin its wheels, blow a horn and emit steam.
Friends of the High Line is still trying to raise money to finish the last segment of the park, but Hammond says he hopes a sponsor for the Koons sculpture will come forward.