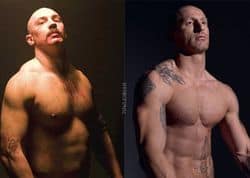 Gay rugby star Gareth Thomas denies reports in UK's Sun tabloid that Tom Hardy is under consideration to replace Mickey Rourke in the biopic about his life.
Says Thomas to the Press Association:
"Any notion that Mickey is giving up on the role are way off the mark. We'd love Tom Hardy to be involved, but he will not be playing me. I teamed up with Mickey because in my opinion there's nobody better to take on such a challenging role and nothing has changed there. He's so motivated by the role it's blown me away. I'm an ex-rugby player, films are Mickey's world and I totally trust in his vision for the film."