Tim Gill has named a gay Republican the new head of his Action Fund, the Denver Post reports: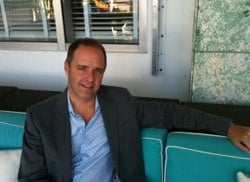 Kirk Fordham, who starts work for Gill in April, is a registered Republican whose first political job was working for then-U.S. Rep. Jim Imhofe, a conservative Oklahoman.
Fordham spent most of his political career on Capitol Hill, where he said he was part of a "gay Republican SWAT team" that worked with moderate Republicans to push back on anti-gay legislative efforts. When former U.S. Rep. Joel Hefley of Colorado Springs sought to overturn a Clinton administration directive to protect federal employees from discrimination based on sexual orientation, the team helped defeat the bid.
The Victory Fund adds:
Fordham's appointment was met with praise from national political leaders who have worked with him, including Congresswoman Debbie Wasserman Schultz, who chairs the Democratic National Committee.  "Kirk practices a bi-partisan approach to problem-solving that has earned him the respect of many friends on both sides of the aisle.  As we continue our march forward to protect the right of every LGBT person to enjoy every opportunity this nation has to offer, I look forward to working with Kirk to build on the progress that has been made by groups like Gill Action," said Wasserman Schultz.