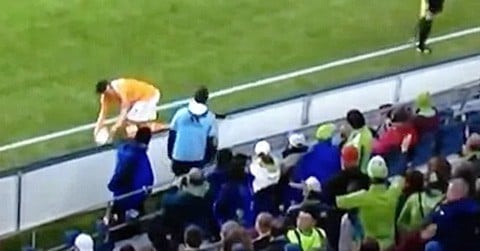 Major League Soccer is reviewing an incident at a game on Friday in night in which Houston Dynamo midfielder Colin Clark called a ball boy a "f**kin' faggot" during a game. The slur was picked up by a mic and caught on camera.
Watch video of the incident, AFTER THE JUMP…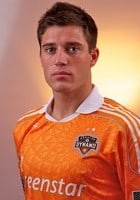 ESPN reports:
"We are aware of the incident involving Houston Dynamo midfielder Colin Clark during the game in Seattle Friday night, and his public apology for it," MLS said in a statement, according to the Houston Chronicle. "MLS is conducting a thorough review of the facts and examining possible disciplinary action."
Clark, on the sideline for a throw-in, had reached out for the ball boy to throw the ball to him. When the ball boy failed to do so, Clark directed the gay slur and a profanity at him, with an NBC microphone nearby.
He offered his apology through tweets on Saturday. Tweeted Clark:
"I'd like to offer a sincere apology to everyone who watched the game, especially the ball boy for whom I used awful language towards…I didn't mean to disrespect anyone and am sorry for letting my emotions get the best of me. It's not who I am and it won't happen again….I'm very sorry for my actions tonight and I would love for you to consider me a #soccerally moving forward."
Watch video of the incident, AFTER THE JUMP…