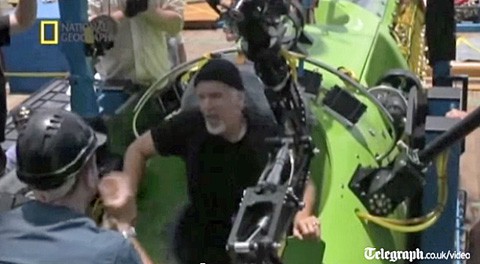 Filmmaker James Cameron returned today from his voyage to the bottom of the ocean's deepest spot, almost seven miles to the bottom of the Pacific Ocean's Mariana Trench:
His depth on arrival: 35,756 feet (10,898 meters)—a figure unattainable anywhere else in the ocean.
The Guardian reports:
His ship was equipped with 3D cameras to shoot footage for a planned documentary, using lighting from a spectacular eight-foot tower of LEDs. The director of Titanic and Avatar, who has maintained a long-term interest in the secrets of the oceans' depths, was able to direct and film the action from within the sub.
The Mariana is 120 times larger than the Grand Canyon and more than a mile deeper than Mount Everest is tall. The dive was the first into the depths of the trench since Swiss engineer Jacques Piccard and US navy captain Don Walsh spent 20 minutes there in 1960. Unlike Cameron, they were unable to see – let alone film – very much as their submarine kicked up too much mud from the ocean floor.
Watch Cameron emerge from the 12-ton Deepsea Challenger, AFTER THE JUMP…