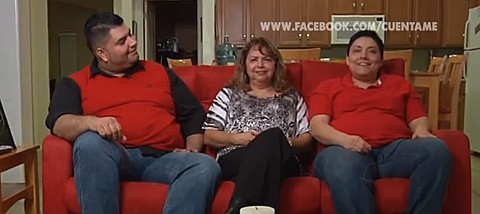 Cuéntame, part of the non-profit Brave New Foundation, presents the latest in its series called 'An Honest Conversation', which features an interview with Olga Valenzuela Moreno, who came from Culiacan in the state of Sinaloa, Mexico, to live in Phoenix, Arizona, many years ago, and her children.
Moreno's gay son Guillermo and lesbian daughter Samantha, tell the compelling story of how they came out in a conservative, Catholic Latino family:
"Dad asked me to go outside, and he goes, 'what's wrong with your mom', and I'm like, 'I don't know.' 'What's wrong with your mom?' He was smoking a cigarette, and I said, 'Well, ok, I'm gay.' He happened to be inhaling at the time and he inhaled extremely deeply, like he was going to maybe ingest the whole cigarette," said Samantha Moreno, 33, in the video.
She was the first to come out, but was followed soon after by her brother, Guillermo Moreno, age 29. "I told my mom and she jerked her head and my dad came walking, crying, and told her, you know, we have another child that is, you know, gay," said Guillermo — who at the time was studying to become a priest (he is now a graphic designer and entrepreneur).
Watch it, AFTER THE JUMP…