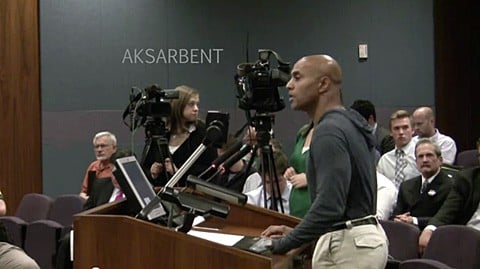 (Above, Nebraska football coach Ron Brown bashing gays at a hearing last week)
I've been posting quite a bit on this (see links below) and now it's time to vote on it.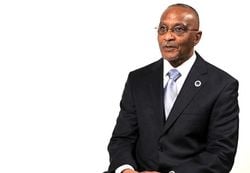 The World Herald reports:
[Ben] Gray's (pictured, right) proposed amendments to city anti-discrimination ordinances would allow lesbian, gay, bisexual and transgender residents to file complaints with Omaha's Human Rights and Relations Department if they believed they were fired because of their sexual orientation, suffered other workplace discrimination or were refused service at restaurants, hotels or other places that serve the public.
Gray's proposed language includes an exemption for religious organizations.
The seven council members are scheduled to debate and vote on the protections, and related amendments, at the start of the 2 p.m. meeting. Most eyes will be on Councilman Franklin Thompson, who killed a similar proposal in 2010 by declining to cast a vote on it. The vote that time was 3-3.
Thompson has promised to vote Tuesday.
The World-Herald is hosting a liveblog of the meeting starting at 2pm CT.
You may have missed…
A 9-minute Clip of Nutty Homophobic Christianist Testimony [tr]
Alexander Payne, Coach Ron Brown Testify at Omaha Hearing [tr]
Omaha City Councilman Ben Gray Discusses Ordinance Protecting LGBT Workers: VIDEO [tr]