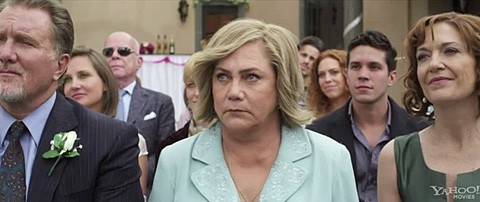 "I'm a Catholic. I don't have to think!"
The trailer has just been released for The Perfect Family starring Kathleen Turner, which closed the Outfest Film Festival last summer, and is currently doing more of the festival circuit.
The Wrap summarizes the plot:
When she is nominated for the coveted "Catholic Woman of the Year" award, Eileen Cleary (Turner) jumps through hoops in order to win, at the expense of her own family. Though her personal efforts earned the nomination, the prospect of a family screening and home visit leave Cleary scrambling to uphold her image. Her firefighter husband Frank (Michael McGrady) is a recovering alcoholic, her son Frank Jr. (Jason Ritter) recently ended his marriage and has started up a new relationship with the local nail technician, and her daughter Shannon (Emily Deschanel) has a baby on the way with a lesbian partner Angela (Angelique Cabral).
Turner looks hilarious and in her element in the trailer, AFTER THE JUMP…