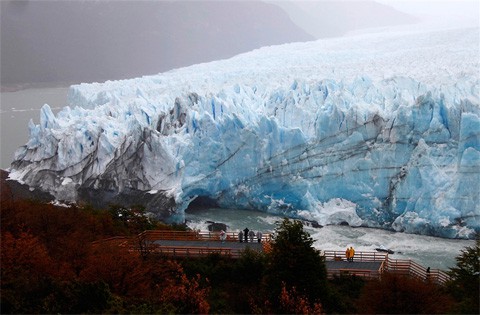 Tourists at The Perito Moreno Glacier in Los Glaciares National Park, in southern Argentina, began gathering late last week to watch the spectacular collapse a massive glacier near the city of El Calafate in the Patagonian province of Santa Cruz, southern Argentina.
MSNBC reports:
As Perito Moreno moves forward, it cuts off a river feeding the lake. Water builds up pressure and slowly undermines the ice, forming a tunnel until ice comes tumbling down. The phenomenon repeats itself at irregular intervals, with the last major ice falls occurring in 2008. The glacier collapsed on March 4, 2012, after several large chunks broke off.
This time, a major portion of the collapse was caught on film.
Watch, AFTER THE JUMP…
(photos here)