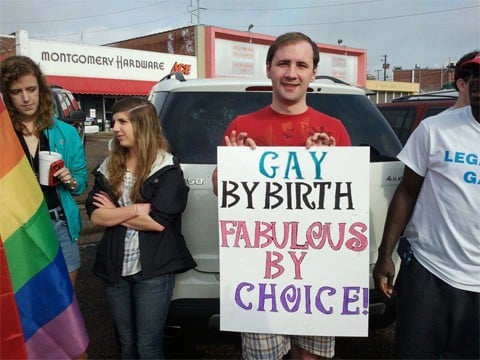 (photo GetEqual Facebook)
A march for LGBT rights in Jackson, Mississippi was shut down by police yesterday, the Clarion Ledger reports:
The participants had intended to walk along city sidewalks from Cups in Fondren to the Capitol steps, said Fondren March for Equality organizer Bob Gilchrist. However, Sgt. James McGowan said Gilchrist failed to secure liability insurance or any documentation to release the city from liability.
"We tried to work with them as much as we could," McGowan said.
If the proper permit procedure had been completed, "we would have given them an escort to the Capitol," he said.
Activist group GetEqual says they were intimidated:
The primary organizer of the march, Bob Gilchrist, had organized the event on Facebook, and was expecting a large crowd for the march. The permit was denied even though event organizers were finalizing details to secure required liability insurance. When informed by police that the permit had been denied, those assembled for the march quickly changed plans under the threat of arrest if they were to proceed.
"Mississippi is notorious for basic human rights violations," said Bob Gilchrist, the event organizer. "It's a shame that, in 2012, the state is still maintaining that reputation."
Zach Magee, a Mississippi native who helped with the organizing behind the march, said, "I can't believe the state is still maintaining a campaign of fear and intimidation to oppress state residents. Mississippians organized this march and Mississippians were going to attend this march — if the police can't maintain safety while also permitting gay Mississippians' freedom of speech, then I don't know why they're in the business of law enforcement."