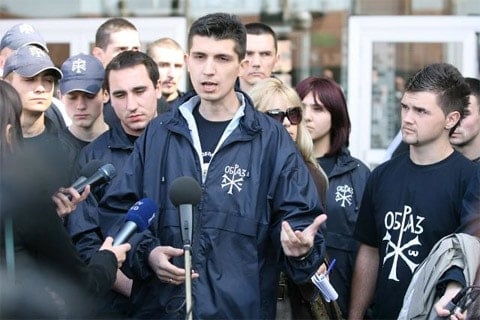 Back in 2009, before a Gay Pride parade in Belgrade that was eventually canceled, I reported on threatening graffiti that was posted around the city threatening violence if it was held.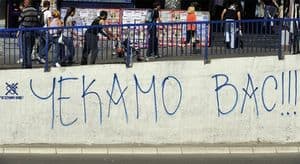 Mladen Obradović, the leader of the group Obraz, which was behind the graffiti, was sentenced to 10 months in jail for those threats today:
The Court found Obradović guilty of committing the criminal act of inciting hatred by issuing statements in the media, and writing slogans and graffiti containing threatening messages against homosexuals.
They included, "We're waiting for you", "Death to fagots", "Blood will flow, there will be no gay parade in Belgrade".
Obradović is entitled to lodge an appeal to the Court of Appeals in Belgrade within 15 days from receiving the verdict.  In 2011, Obradović was sentenced by the Higher Court in Belgrade to two years of prison for organizing riots during the 2010 Pride parade, to which he has a right to enter a plea.
Obradović remained defiant after the sentencing, saying the group would continue to use the threat "we're waiting for you" (see inset image) as warning regarding future gay events .