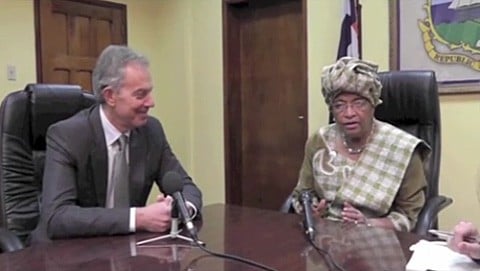 Liberian president Ellen Johnson Sirleaf tells The Guardian she won't sign any law decriminalizing homosexuality.
"We like ourselves just the way we are…We've got certain traditional values in our society we'd like to preserve."
The interviewer then turns to former British PM Tony Blair, and asks him about how he feels about Prime Minister David Cameron's recent statements to African leaders instructing them to respect the human rights of LGBT people.
Blair smiles nervously, but refuses to comment.
Watch, AFTER THE JUMP…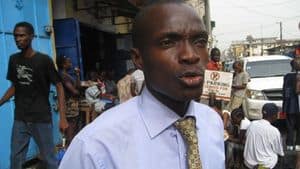 Meanwhile, in Liberia, Archie Ponpon (pictured) and Abraham Kamara, two activists with Movement for the Defence of Gays and Lesbians in Liberia (Modegal), have been confronted by angry mobs in recent weeks, causing them to seek safety at the police station.
When the two activists tried to get their organisation officially registered by the government, Mr Ponpon says their "article of incorporation was denied".
"We wrote to the president complaining, but she has not responded," he says.
The home of Ponpon's mother was burned down: "He suspects it was an arson attack by people who do not support his stance. 'Since this incident, my mother has been in hiding,' he says."
Watch, AFTER THE JUMP…