A new clip from Madonna's "MDNA" has been released. The song features Madonna's daughter Lourdes Leon on backing vocals. From her interview with The Sun: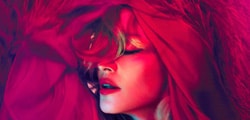 "Yes, she's my background singer. She just came over to the studio that day. Then I said, 'Oh, can you sing this part?' and she agreed to. She has a very good voice. She's quite shy about it and won't admit it. Lots of people are knocking on my door to meet her about everything, movies and what-not. But she's not really interested in any of it. She just wants to go to school. She says to me, 'Mum, I just want to be a normal kid. I'm not ready for any of that' I respect that, and if she ever wants to work with me on any level I welcome it."
It's unclear if Lourdes can be heard in the leaked snippet.
Listen, AFTER THE JUMP…