A 71-year-old woman was arrested and charged with a hate crime for using her cane in an anti-gay attack on a man, the Star-Telegram reports: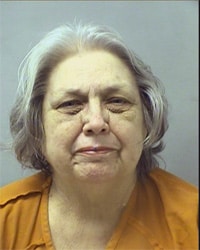 Wanda Derby attacked the 25-year-old man Wednesday night as her son was moving into the man's apartment, Richland Hills police said.
"This apparently angered Derby," Richland Hills Detective Tye Bell said in a news release.
Derby referred to the man with a homosexual slur and told authorities that the man "has AIDS and is going to kill her son," according to the news release. Derby, who was arrested Wednesday, was free Thursday afternoon on $11,500 bail, according to Tarrant County criminal court records. She is charged with aggravated assault with a deadly weapon, enhanced as a hate crime, and assault causing bodily injury.
…Derby is accused of hitting the man, who was not identified, several times with a cane and choking him by placing the cane against his throat. The man's mother saw the attack and went to help. As she called 911, she was hit in the face, Richland Hills police said. The man had marks and bruises on his throat and body and was treated at the scene, police said.
Derby's Facebook page is littered with angry rants about her neighbors, including this one about her son.

UPDATE: Derby's victim is speaking out. Check out his interview HERE.