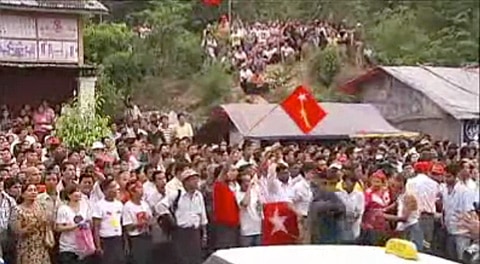 Thousands celebrated in Burma (Myanmar) after elections results revealed that longtime imprisoned opposition leader Aung San Suu Kyi and her party won seats in parliament.
The Guardian reports: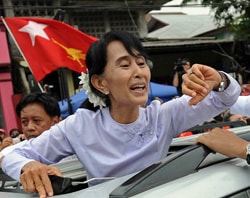 Aung San Suu Kyi has hailed "the beginning of a new era" in Burma's politics after her party claimed a spectacular 43 out of 44 parliamentary seats in Sunday's historic byelection.
Speaking to thousands of red-clad supporters outside the headquarters of her opposition party, the National League for Democracy' (NLD), the Nobel laureate called the election "a triumph of the people" and said: "We hope this will be the beginning of a new era."
Traffic slowed to a crawl as throngs of people, many of them waving flags and clutching red and white roses, spilled into the street to cheer, clap and call out "Amay Suu" (Mother Suu) as her motorcade arrived. At least one person was trampled underfoot when bodyguards pushed back the crowds and people swarmed to the car to see the woman who spent almost 22 years under house arrest and who many hope will create a new future for Burma's 60 million people.
CNN reports:
The sudden relaxation of political shackles on the Nobel laureate has raised the inevitable questions of why, and what do they want in return? One expert said Myanmar's new leaders, who were elected to power in a vote derided as a "sham" in November 2010, had tired of being ostracized by the international community.
Watch an Australian news report from the scene, AFTER THE JUMP…