House Minority Leader Nancy Pelosi (D-CA) and House Minority Whip Steny Hoyer (D-MD) have written a letter to House Speaker John Boehner condemning his decision to intervene and defend yet another challenge to the Defense of Marriage Act (DOMA).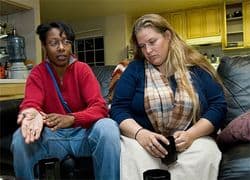 The case they refer to is in the U.S. District Court for the Central District of California on behalf of Tracey Cooper-Harris, who's seeking benefits as a disabled Army veteran for her spouse, Maggie Cooper-Harris.
I posted about his case here.
According to the Washington Blade:
Boehner will be defending not just DOMA in court, but Title 38, a law governing veteran benefits that as written precludes same-sex married couples from obtaining benefits. It's the first time the speaker has elected to defend this statute in addition to DOMA.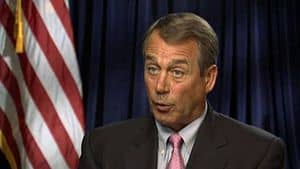 Here's part of the letter to Boehner:
This intervention once again puts the House of Representatives on the wrong side of the future – supporting discrimination, unfairness, and the denial of basic equality to all Americans.  We have objected to prior decisions by the House Republican BLAG members to spend hundreds of thousands of taxpayer dollars to defend discrimination.  This latest decision not only ignores the civil rights of LGBT Americans but opens a new, direct assault on veterans.   The men and women of our Armed Forces serve with courage and dignity on behalf of our safety and security.  They risk their lives for the country they love – and they should not face prejudice at home because of whom they love.  These brave soldiers deserve nothing less than our gratitude, our respect, and the benefits they have earned in battle…
…Federal district courts have already deemed DOMA unconstitutional, and the Justice Department will not defend the law.  We call upon the Republican members of the BLAG to rescind your unilateral decision to expand your defense of DOMA to cases involving veterans.  If you insist upon continuing this costly and wasteful use of hundreds of thousands of dollars of taxpayer funds, we request: (a) a formal vote of the BLAG on extending your defense of discrimination to veterans and their families, and (b) any extension of the existing legal contract, any new contract, and any additional expenditure of public funds on behalf of outside counsel receive full prior examination by the Committee on House Administration and the House Ethics Committee.
Read Pelosi and Hoyer's full letter at The Blade.