A psychiatric patient "suffering from paranoid schizophrenia" is in police custody and is expected to be charged with second-degree murder in the death of Ryan Raymond Taavel, a Halifax, Nova Scotia gay activist, CBC reports: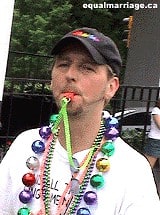 Ryan Raymond Taavel was former chairman of Gay Pride week events and a well-known editor for Wayves magizine. He also worked for the Shambala Sun Magazine. A vigil is being organized in his honour Tuesday night.
He was found lying in the street bleeding at 2:39 a.m. local time by a passing motorist who called Halifax Regional Police. Taavel died at the scene.
He and a friend had just left Menz Bar, a popular Halifax gay bar, when they got into an argument and fight with a much larger man. Two witnesses have told police the attacker used homophobic slurs during the beating and one eye witness told CBC News that he repeatedly slammed Taavel's head into the street where the victim was found by police and later pronounced dead by paramedics.
A witness, who only wants to be identified as James, told CBC News that he saw a large man attack two smaller men, who appeared to be friends. One victim fled and the attacker then slammed the other man's head into the street.
Taavel's attacker was reportedly on unescorted leave from a psychiatric hospital.