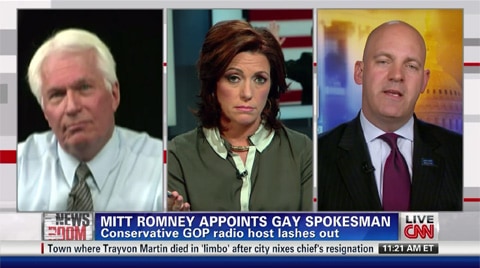 American Family Association radio host and hate group leader Bryan Fischer, who has launched an all-out assault on Richard Grenell, Romney's new out gay conservative spokesman, appeared on CNN today with Log Cabin Republican Executive Director R. Clarke Cooper, Think Progress reports.
Fischer was asked to explain his campaign against Grenell, and was pushed into a corner by Kyra Phillips, who reminded Fischer that Grenell was also spokesman for UN ambassador John Bolton, whom Fischer praised as having done a "great job."
Argued Fischer: "Well, the point here is that personnel is policy. Everybody in D.C. says that. Personnel is policy. When Governor Romney picks somebody who is an activist homosexual and puts him in a prominent position, he's sending a shout out, it seems to me, to the homosexual lobby."
Watch, AFTER THE JUMP…