A letter signed and sent yesterday by 72 House lawmakers urges President Obama to sign an executive order approving federal non-discrimination protections for LGBT people in the workplace, the Washington Blade reports.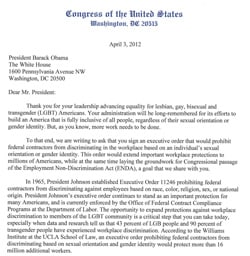 "This order would extend important workplace protections to millions of Americans, while at the same time laying the groundwork for Congressional passage of the Employment Non-Discrimination Act (ENDA), a goal that we share with you," the lawmakers write.
The executive order is similar in its goal to the Employment Non-Discrimination Act, legislation that would bar job bias. The directive has sometimes been referred to as the "ENDA" executive order, although the order would be more limited in scope because it only affects federal contractors.
The letter recalls that President Johnson in 1965 issued Executive Order 11246, which similarly banned discrimination among federal contractors for workers based on color, religion, sex and national origin, and says this order "continues to stand as an important protection."
Notably absent from the letters signers are Nancy Pelosi, who told the Blade that not signing group letters has been a "longstanding custom since she has been in leadership", as well as Steny Hoyer and Debbie Wasserman-Schultz.
A copy of the letter can be seen here.