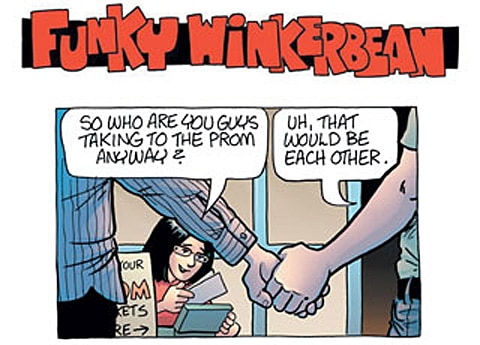 Cartoonist Tom Batiuk, author of the long-running comic Funky Winkerbean, is planning a month-long storyline starting April 30 which focuses on a gay student who wants to go to prom, the Chronicle Telegram reports:
"It struck me that whenever I sit in classes at Midview High, which I still do, my overall impression is that the younger generation's attitudes toward gays is more open and accepting than their predecessors," Batiuk said. "It's not perfect, but it shows promise for an emerging generation that will bring this issue (intolerance) to an end. I wanted to take those two opposing viewpoints to reach across that divide of intolerance."
The upcoming same-sex storyline will be one of the strip's most socially significant since publication of "Lisa's Story," Batiuk's 2008 Pulitzer finalist about the battle one of his strip's central characters had with breast cancer. The story eventually morphed into an award-winning book published by Kent State University Press.
Batiuk also has tackled teen pregnancy, suicide, alcoholism and teen dating violence in the comic's 40 years, according to the paper. Funky Winkerbean appears in more than 400 newspapers nationwide.