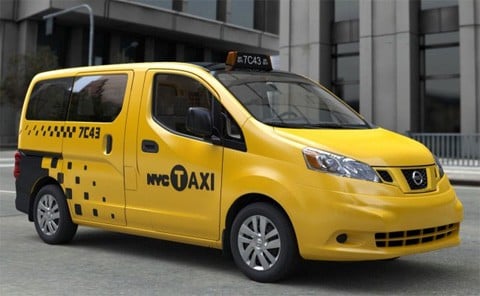 Vanity Fair's Brett Berk outlines the new features of the Nissan NV200, which will be NYC's taxi for the next decade, and is shown at the New York Auto Show this week:
These include a standard driver's navigation system that will preclude ever again having to explain which numbered streets precede and follow West 17th, a panoramic glass roof for staring up at the young men on those Hollister billboards, a low-annoyance horn tuned to a frequency that's only audible to other cabbies (or so we hope), one 12-volt and two USB charging ports so all your batteries will be as fresh as the scent inside the cabin, fuel-economy numbers that double those of the neolithic Ford, and antibacterial pleather seats…
Also baked into the compact new cab: space. And not just inside the cabin, where a flat-floored, "no hump" rear seat and lengthy wheelbase will provide ample legroom for drivers and passengers. On the streets, too: "When all of the Crown Vics are replaced with NV200s," David Reuter, Nissan's V.P. of global communications, told us, "there will be five acres of real estate given back to the city of New York."
The Nissan is set to replace the Ford Crown Victoria and the other models currently on NYC streets.