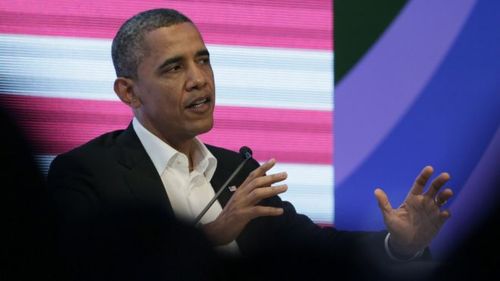 Obama resolutely prohibitionist in war on drugs panel at Colombia's Summit of the Americas:
Obama earlier Saturday left the door open for debate, but made it clear that the United States has a firm stance.

"I think it is entirely legitimate to have a conversation about whether the laws in place are doing more harm than good in certain places," Obama said. "I personally, and my administration's position is, that legalization is not the answer."

Meanwhile, his Secret Service agents should have been serviced more secretly:
A group of Secret Service agents and officers sent to Colombia ahead of President Barack Obama were relieved of duty and returned home amid allegations of misconduct that involved prostitution, according to two U.S. government sources familiar the investigation.

The 11 Secret Service members — both agents and uniformed officers — were interviewed Saturday at the agency's Washington headquarters, after which they were placed on administrative leave, Assistant Director Paul Morrissey said in a statement.

They are under investigation after preliminary findings revealed that they brought back several prostitutes to the Hotel Caribe in Cartagena,

"Q High School": An educational alternative for Phoenix-area LGBT teens.

Director of Bully was bullied.

Ever wonder what happens at an NRA convention? Pudgy, tomahawk-wielding men do battle. (HT: JoeMyGod)
NASA solicits ideas for less expensive, more conservative approach to Mars:
The race to redraw a new, cheaper road map comes two months after NASA pulled out of a partnership with the European Space Agency on two missions targeted for 2016 and 2018, a move that angered scientists. The 2018 mission represented the first step toward hauling Martian soil and rocks back to Earth for detailed study — something many researchers say is essential in determining whether microbial life once existed there.

Agency officials said returning samples is still a priority, but a reboot was necessary given the financial reality.

Robin Gibb is in a coma.

Ten candidates banned from Egyptian elections:
Egyptian election officials have barred 10 candidates from standing in upcoming polls, including former spy chief Omar Suleiman and the Muslim Brotherhood's Khairat al-Shater.

Ultra-orthodox Salafi Hazem Salah Abu Ismail and long-standing opposition leader Ayman Nour were also banned.

… Mr Suleiman – a former ally of Mr Mubarak whose nomination has sparked protests – was apparently barred because he failed to get enough signatures to endorse his last minute candidacy, our correspondent says.

Meanwhile, the hopeful representing the hardline Islamists, Mr Abu Ismail, was ruled out because his mother has American citizenship …

… As a result, the Muslim Brotherhood are best covered, while the Salafists backing Mr Abu Ismail look to be the hardest hit …

Sony loses $6 billion; remains optimistic.

Paul McCartney's new "My Valentine" video: Sedate but lovely, featuring Natalie Portman and Johnny Depp. Watch AFTER THE JUMP …