Big report on Invisible Children's ties to anti-gay group The Family (via Wayne Besen).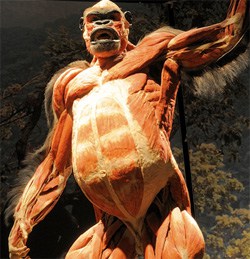 The Bodies Exhibition – animal-style.
Ryan Gosling saves woman from speeding taxi.
Matthew Mitcham scores perfect dive at Olympic trials: "Mitcham scored perfect 10s from seven judges on dive five in the 10m platform final in Adelaide on Wednesday."
Madonna scores 8th #1 of career will top Billboard debut for MDNA.
Anti-gay attack spurs rallies in Ohio.
Scientists: Beer not responsible for the beer belly. "The team conclude that their study 'does not support the common belief of a site-specific effect of beer on the abdomen, the beer belly'. 'Beer consumption', they write, 'seems to be rather associated with an increase in overall body fatness'."
Wes Bentley and Christian Bale wrestle on a beach.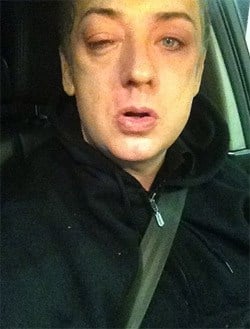 Boy George assaulted by female fan: "George was leaving the club when, the club management have said, a drunken and aggressive woman lunged for his hat – and in doing so hit him in the eye."
Channing Tatum performs stripper-style dance with Elton John.
More than 60 percent of Australia's mayors support marriage equality: "The survey asked 150 mayors, MPs and councillors across Australia 'Should the government stop gay people from getting married?'. Only one in four decision-makers said the government should intervene and stop gay marriage."
A Tumblr dedicated to Nick Jonas' butt.
Openly gay Rev. Bradley Schmeling to lead largest Lutheran congregation in St. Paul, Minnesota: "Schmeling faced a church trial and was removed from the ELCA's official clergy roster in 2007 after he announced he was in a committed same-sex relationship with Pastor Darin Easler. Easler, a former minister at United Redeemer Lutheran Church in Zumbrota, Minn., was also removed from the ELCA roster. The St. John's congregation chose to ignore Schmeling's removal from the church roster, however, and kept him on as pastor. In its August 2009 assembly in Minneapolis, the ELCA voted to permit gay and lesbian ministers in monogamous relationships to be on the roster. Schmeling and Easler were later reinstated."
Till the World Ends: Kelly Clarkson covers Britney Spears.
Gay activists: Uganda becoming more tolerant.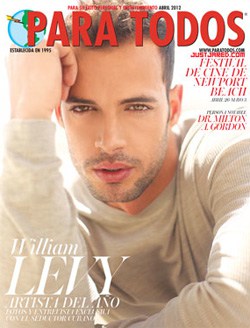 DWTS hunk William Levy covers Para Todos.
Why does the University of Nebraska allow assistant coach Ron Brown to continue building a hostile environment for LGBT athletes on the school's football team?
School notebooks with Stalin on the cover selling like crazy in Russia: "Russia's education minister says while he disapproves of the notebooks, there is no legal way to stop stores from selling them."
Iowa Rep. Steve King says gays should keep their sexuality to themselves at work: "In the first place, I would think that unless someone makes their sexuality public, it's not anybody's business, so neither is it our business to tell an employer who to hire. He won't know who to discriminate against in the first place."
15 targeted killings of lesbians in Thailand since 2006. More from Grace Poore: "Some of the victims were as young as 14, with ages ranging up to early 40s. The violence, extremely brutal, included multiple stabbing, burning, suffocation, strangulation, or shootings leading to death. Many of the lesbians and toms were raped. In two cases of double homicides, men who objected to the women's relationships killed the lesbian couples. Though the killings were verified and nearly all the victims identified, they were dismissed by the police as 'ove gone sour.'"